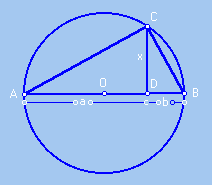 The segment CD has as length the square root of a.b. In fact, the similarity between triangles ACD and CBD (both of which are similar to the ABC triangle) we have that:

AD/CD = BD/CD, or by "cross multiplying" CD.CD = AD.BD

or either, the length CD is the square root of the product of the lengths of CA and CB.
The square on the side CD has the same area as the rectangle with sides a and b.