Thursday, April 14 (outline)

---
Projective Geometry- Calculus Beginnings
The conics.


Cones and Conic Sections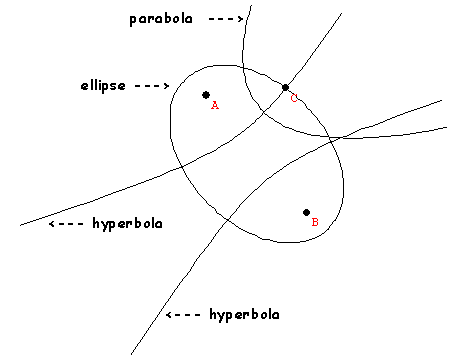 FAPP video.

---
Lines - Ratios, Rates, Proportions-Measurement.

Average Speed and velocity
Delta Notation
More on Similar triangles
Slopes of lines

Parabolas

Line of symmetry
Coordinate graphs of quadratics relation
Finding line of symmetry from data, from equation
Secant lines and slopes
Locatring the vertex. and slopes of secant lines.

Coordinates and Functions.

Functions rule relating variables
function notation x -> f(x)

Section 10.0 - ON-Line Quiz


Tutorial on Functions (numerical & algebraic)
Tutorial on Functions (Visual/Graphical)
Static vs. Dynamic visualizations
Winplot?

---
Ch. 10.1 Some Historical Problems of Visualization:

The parabola and squares.

Ratio of Length of verticals :: ratio of squares on horizontals


Visualizing Algebra, Motion and Change

time vs. position
time vs velocity


Analytic geometry- Descartes and Fermat
---
10.2 Four Problems Connecting the visual to the Numerical

Area of a region.
Tangent line
Motion and distance traveled by a falling object

Motion and position (cannon balls)