Wednesday March 5

---
Discuss assignment for this week : Projection and inference (what could happen in the Cave).
Shadows: A sphere might cast a circular shadow, but more typical the sphere's shadow is a cone in space and thus casts an elliptical shadow!
The simplest three dimensional figure has 4 points not all in the same plane: three point determine a plane- so a fourth point not in that plane will need "space" to make sense. These four points determine a tetrahedron.
We considered how the tetrahedron might case shadows. Sometimes a triangle, sometimes a quadrilateral.

The assignment: shadows for the frame of a cube.

---
Review Briefly activity on recognizing symmetries in frieze and planar patterns.
Show video on symmetries from FAPP.
---
Based on the group of symmetries for these patterns,
there are seven possible distinct types of frieze or
Border Patterns:
translation

horizontal
reflection

vertical
reflection
reflection +
reflection

glide
reflection

rotation

reflection +
glide reflection
---
Show video on symmetries from FAPP.
---
More on the symmetries of a tiling: There are 17 distinct symmetry groups for tiling the plane. They can be described by the following diagrams indicating the symmetries of the figures as below: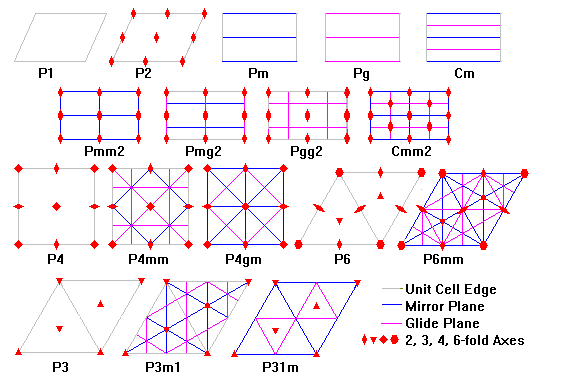 or with figures as illustrated by the following

translations

reflections

reflections +
reflections

glide
reflections

reflections +
glide reflections

rotations (2)

reflections +
rotations (2)

rotations (2) +
glide reflections

rotations (2) +
reflections + reflections

rotations (4)

reflections +
rotations (4)

rotations (4) +
reflections

rotations (3)

reflections +
rotations (3)

rotations (3) +
reflections
rotations (6)

reflections +
rotations (6)
---
---
Do Symmetry/tessellation activity [Connect to Escher tilings. using Miras to reflect and create a tiling.]

---
---