Thursday, February 24

---
Pre-screening comment on President Summers (Harvard), women and science: President's letter to faculty.
Association for Women in Mathematics's response to Harvard President Lawrence Summers' remarks
Letter from the President of the Anita Borg Institute for Women and Technology: Telle Whitney responds to Lawrence Summers.


---
Review of Discussion So Far on Classification of Isometries
Video : Isometries
The video introduces the four isometries we have discussed:
reflections, rotations, translations, and glide reflections.

It shows that the product of two reflections is either a rotation (if the axes of the reflection intersect) or a translation (if the axes of the reflection are parallel).
---
We saw this also with a Wingeometry demonstration for reflection- one and two reflections
The video shows that

Any plane isometry is either a reflection or the product of two or three reflections.
Two reflections = rotation or translation.

What about 3 reflections?
Three reflections = reflection or glide reflection

Visual Proof discussion from Math 371 (HSU Geometry Course): Key idea- The product of two reflections is "flexible."
---
---
Comment on Symmetry in Music and Sound: (another dimension?)

Translation .... by an octave, relative position-- chords
Reflection
Rotation: thirteen notes in "chromatic" scale
Glide Reflection
Visualizations of music - Examples:

Notation: Conventional music notation: The mozart viewer

Windows media player.

---
---
Space: How do we understand objects in space?


How can the Flatlander experience the sphere and space?
Pick up templates to make Platonic solid models for next class!
Recall assignment: Make a torus with 2 and 1 piece!

Cross sections: Look at the octahedron with cross sections : squares, rectangles, triangles and hexagons depending on how the octahedron passes through the plane.

Shadows: Recall our previous class activity when we considered how the octhedron might case shadows.

Fold downs- flattened figures: Consider how the cube can be assembled from folded down squares in two different configurations: a cross or a "zig-zag."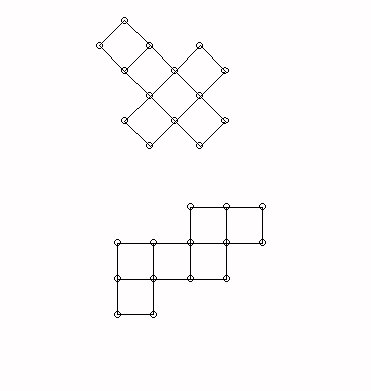 ---
analogue... point... line.... polygon.... polyhedron......

Some Issues we'll consider in the plane and in space:

Solids and Surfaces: Geometry and Topology [Classification]

Transformations: Rigid, Projective, "continuous"


Invariants- examples: Measurements, qualities, counting


Isometries in space:


products of reflections in space:

Rotations and translations
Applications to dance

---

Polyhedra and symmetry.
Historical Note on Kepler.

Platonic (regular convex polyhedra) and Archimedean (semiregular convex) Solids- on the web!



Why are there only 5?
Look at the possible ways to put a single regular polygon together with more of the same to make a spatial "cap" about a single vertex. This involves equilateral triangles (3,4, or 5), squares (3) or pentagons (3).
This shows that there were at most five vertex caps possible. These actually do work to make


Regular polygons around a vertex.
All vertices are "the same"
Activity: Counting vertices, edges, and faces for the platonic solids to become more familiar with them.

---